Last year's trends for the aisle were all inspired by the drama and classicism of royal weddings; but for 2020, it's all about new interpretations of those classics, fresh alternatives to ivory and alabaster, and inspirations from decades past that (ironically) feel undeniably forward-thinking.
From the latest wedding-worthy accessories to effortless volume and the new take on bridal's ever-evolving bohemienne, these fresh takes on tailoring, style, and silhouettes are what you should be paying attention to as you plan, shop, and style your 2020 nuptials. Here, the fashion bride's guide to dressing for 2020 weddings.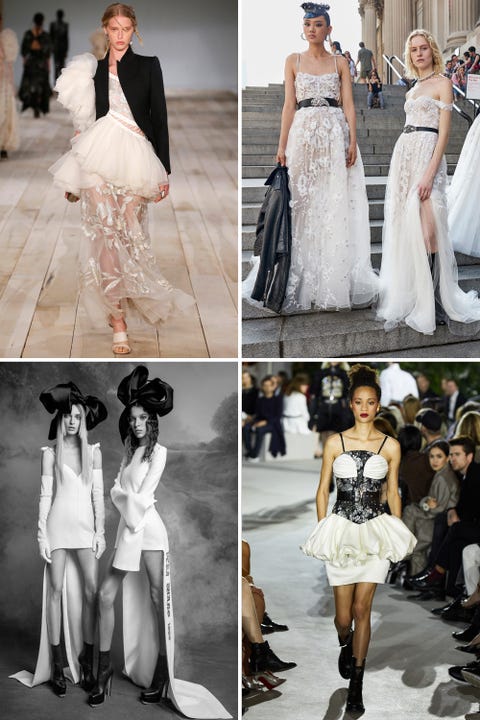 Meet the the modern bride—she's more irreverent than ever before.
This look is all about a major dose of attitude and edge. Take an irreverence and laissez-faire attitude to dressing for the aisle, then amp it up even further with a punk flair if you're feeling extra. Per Vera Wang's latest anniversary collection, Louis Vuitton's Cruise 2020 show, and Alexander McQueen's latest showing for Spring 2020, this look promises that you'll look all too cool, while still giving off an effortless vibe. Infuse hints of black, opt for '80s-inspired touches, embrace sheer elements, shorter lengths, and slits. Now, put them altogether; this is for the bride looking to merge romance with rebellion.
Clockwise from left: Alexander McQueen Spring 2020; Reem Acra Bridal Fall 2020; Vera Wang Bride Fall 2020; Louis Vuitton Cruise 2020.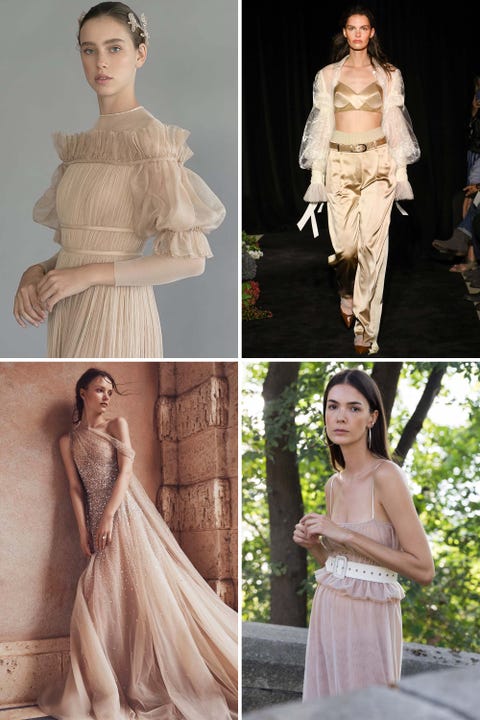 Out with the old, in with the new hue.
Blush gowns became a mainstay in seasons past, but buff and ginger (the happy medium between blush and champagne) complements a wide range of styles and skin tones, making it our favorite new alternative to tried-and-true bridal white.
This shade is for the bride who doesn't feel like she's at her best in traditional ivory and alabaster tones. Pair it with gold, silver, blush, black, ivory, or bolder tones for a look that feels daring yet romantic—and nowhere near basic.
Clockwise from left: Chana Marelus Fall 2020; Danielle Frankel Fall 2020; Monique Lhuillier Bridal Spring 200; Lein Fall 2020.