The first rain gardens I ever saw looked a little clunky and out of place, a landscaping afterthought in an otherwise well-designed yard. That was easily a decade ago, and since then modern rain garden design has made huge strides. Today's rain gardens form a green landscape that's low maintenance and as beautiful as you want it to be. This beauty is more than skin deep, because rain gardens protect local waterways, groundwater supplies and city sewer systems by slowing storm runoff and filtering pollutants.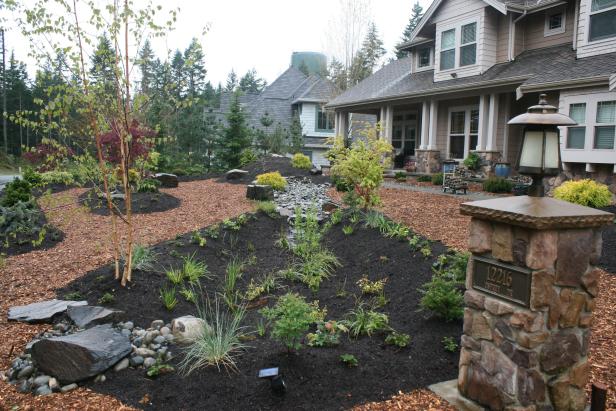 Rain Dog Designs, Gig Harbor, Washington
Rain gardens also help your budget in several ways. When you replace turf with a rain garden, you immediately save time and money on lawn care. In many regions, you can earn rebates from local water boards or utilities for installing a rain garden. Some municipalities require homeowners to reduce their property's storm water runoff—or pay higher storm sewage fees. A rain garden treats runoff in a way that's eye-pleasing and easy to maintain.Wondering if a rain garden is right for you? Glean some in-the-know tips and check out a few rain garden designs from David Hymel and Marilyn Jacobs, owners of Rain Dog Designs in Gig Harbor, Washington.
Call 811 Before You Dig
Rain Dog Designs, Gig Harbor, WashingtonEvery landscape project—including installing a rain garden—begins with locating underground utility lines." All jurisdictions require some notification," says Hymel.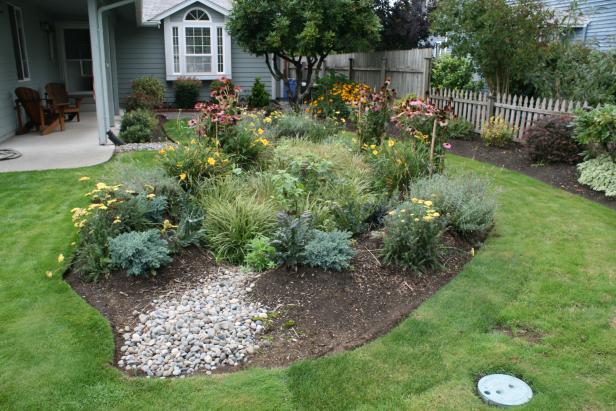 "If you dig and hit a line, you could wind up paying costs for utility repairs, first responders and fines for disrupting utility service." When utility lines conflict with where you hope to put a rain garden, simply shift the location. "This can be a challenge in a small yard, but there are always options," Hymel says.