According to ZeroHedge, Jerome Powell, Federal Reserve chairman, sold millions of dollars in stock funds as the market tumbled in October of 2020. Here's what ZeroHedge had to say:
"the Prospect revealed that, amid 26 publicly disclosed transactions in 2020, Powell sold between $1 million and $5 million worth of stock from his personal account on October 1, 2020, a sale of the Vanguard Total Stock Market ETF, or VTI, according to disclosure forms reviewed by the Prospect and subsequently leaked in hopes of crushing Powell's renomination chances.
All of the other leaked transactions are also sales, including another $50-$100K sales from the VTI on Sept 21, just days after the Fed's Sept 15-16 2020 FOMC meeting, as well as a series of Sales anywhere between $15K and $250K on Dec 18, jus 2 days after the Fed's Dec 16 FOMC meeting, in funds such as the MSCI EAFE ETF (EFA) where Powell sold $15K-$50K, the RUT Russell 2000 ETF (for $100K-$250K), the Goldman US Equity Dividend and Premium Fund (GSPKX) and so on. There were also a handful of purchases, but none in the ballpark of the $1,000,000 – $5,000,000 sale noted above."
Helpfully, the article includes a chart that shows all of Powell's leaked trades: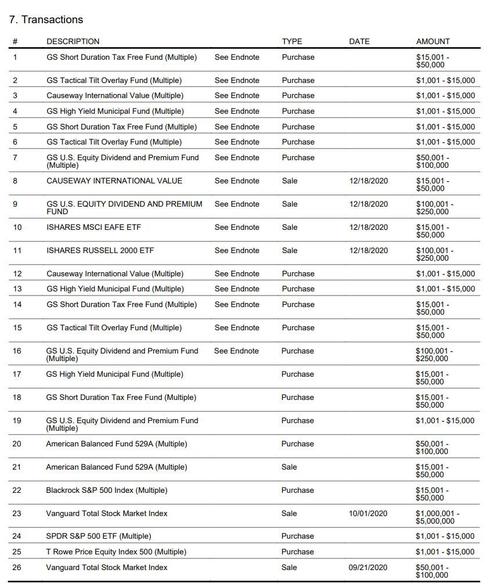 The Prospect article cited by ZeroHedge notes that,
Powell's stock sale came against a background of President Trump balking over an urgently needed new economic stimulus package. A day later, Trump announced to the public that he had tested positive for COVID.
Meeting logs show that Powell had been in contact with Treasury Secretary Steven Mnuchin four times on October 1. Powell had been pressing the administration to support more fiscal stimulus, so that the sole responsibility for rescuing the economy would not be on the Fed and monetary policy.
In a speech October 6, after his sale of stock, Powell warned that failure to enact stimulus could have "tragic" economic consequences. He said, "The expansion is still far from complete … Too little support would lead to a weak recovery, creating unnecessary hardship."
Furthermore, the leaked information about Powell's multi-million dollar trades comes on the heel of other information about potential insider trading from members of the government. Three other Federal Reserve officials were exposed for trading during the panic, two of whom, Dallas Fed President Robert Kaplan and Boston Fed President Eric Rosengren, were forced to retire as a result of those trades being disclosed.
Nancy Pelosi has also been suspected of making trades based on government action. As Jesse Watters exposed, "The [Pelosi] couple has timed the market perfectly over the years while Nancy's been a Washington insider. Real, estate stocks — the Pelosis always know what the right investment is. Since getting married, they've acquired a mansion in Napa Valley, a vineyard home worth up to 25 million — [a] real luxury."
And some of the Pelosi household's specific trades have been exposed as particularly egregious, with a Microsoft trade being one example:
Paul Pelosi, husband of Speaker Nancy Pelosi, bought between $850,000 and $1.75 million in Microsoft stock, between $500,000 and $1 million in Alphabet (parent company of Google) securities, and between $250,000 and $500,000 in Slack stock. These all took place in late February. pic.twitter.com/UCirF2bXhs

— Chris Marquette (@ChrisMarquette_) April 27, 2020
However, to present both sides, ZeroHedge notes that Powell has a net worth somewhere between $17 and $55 million and his trade came as the market tanked, not as the market rebounded on news of Federal Reserve activity and government action. So, while the multi-million dollar trade is suspicious, ZeroHedge argues that "he was hardly frontrunning the Fed's market-friendly actions."
ZeroHedge suspects that the leaked details of Powell's trades come not over worries about government corruption, but rather as a way to "kill Powell's candidacy by leaking his trades in hopes of getting the Fed's resident socialist, Lael Brainard, to replace Powell amid the growing storm over Fed trades."
The full, leaked form with J. Powell's trade disclosures can be found here.